Special Report - (Namazone):
A group of Saudi listed companies are still racing against time to reach a rescue plan, out of the circle of accumulated losses, and distance from the edge of the abyss, while other companies were able to modify Positioned, to take her breath, if only temporarily.
And the list of companies that have accumulated losses witnessed more than 20%, from its head, joining new companies, by the end of the results of the first quarter of 2020, and the exit of other companies from the list.
According to the data available on the website (Namazon), the list of companies with accumulated losses on the Saudi Stock Exchange website included 22 companies, divided into 3 ranges.
These companies maintain accumulated losses in the list of shareholders' equity, amounting to about 6.5 billion riyals, representing 29.8% of the total capital accumulated for these companies, which is estimated at 22 billion Real.
These companies are distinguished by three marks, according to the percentage of accumulated losses from the capital, where the companies that have losses 50% or more of their capital are marked in red, which means A risk sign for these companies.
As for companies that have losses less than 50% to 35% of the capital, they feature an orange balloon, which is less dangerous, then companies that have losses less than 35 %, To 20% of its capital, which is yellow.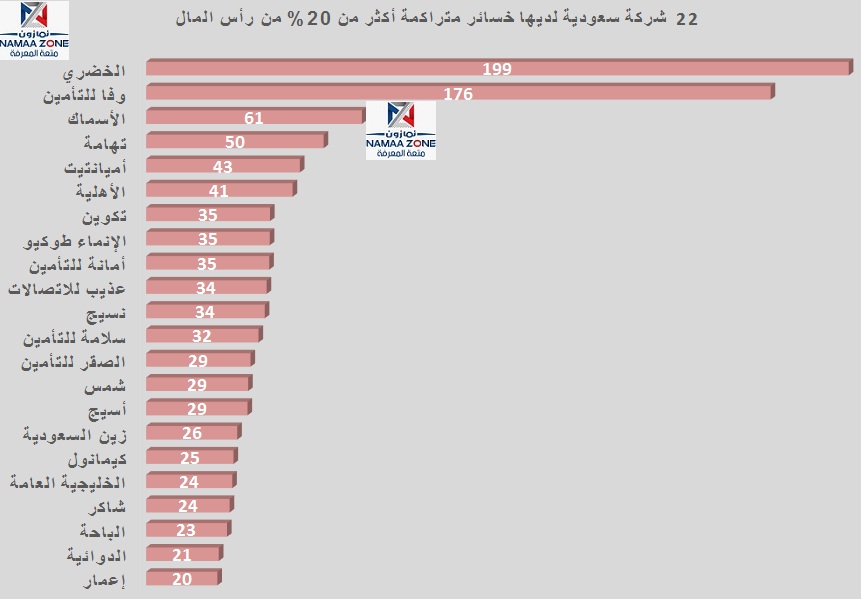 edge of a cliff
Sons of Abdullah Abdul Mohsen Al-Khudari and the Saudi Indian Insurance Company Wafa Insurance are at the top of the list, undisputedly after the accumulated losses in the two companies approached weak capital .
The accumulated losses of Al-Khudari Company amounted to about 1.1 billion riyals, representing 198.52% of the capital, which amounted to 557.81 million riyals, according to the latest financial statements of the company.
As for the Saudi Indian Company for Cooperative Insurance, Wafa Insurance, its accumulated losses amounted to 176.45 million riyals, equivalent to 176.45% of the company's capital which amounted to 100 million riyals. p>
Wafa Insurance announced last April that the Commercial Court in Riyadh approved the financial reorganization proposal, after the approval of the majority of creditors on the proposal of financial reorganization of the company under a system Saudi bankruptcy.
new companies <...