It seems that Bitcoin refuses to give up its volatile nature, even for a while. As soon as there is hope in the hearts of its investors that it is standing on solid ground, with breaking record levels, the situation will turn around overnight, which has happened several times this year, most recently in December 5, when the world's most popular and market-valued cryptocurrency lost about a fifth of its value in just 24 hours
In fact, the strong volatility of Bitcoin may not be surprising, as the cryptocurrency, which has risen more than 62% since the beginning of this year, has lost more than half of its value from April, when it touched $65,000 levels for the first time in its history, to less than $30,000 in July, before doubling in value and hugging new highs near 69,000 on November 10, and since then, Bitcoin took an accelerated descending path, reaching the bottom of December 4 at $41,700, but despite the sharp losses that resulted in On the decline in the market value of the most prominent currency in the world from more than a trillion dollars, to more than 850 billion dollars in just 24 hours, it succeeded in returning and stabilizing between the level of 51 thousand and 47 thousand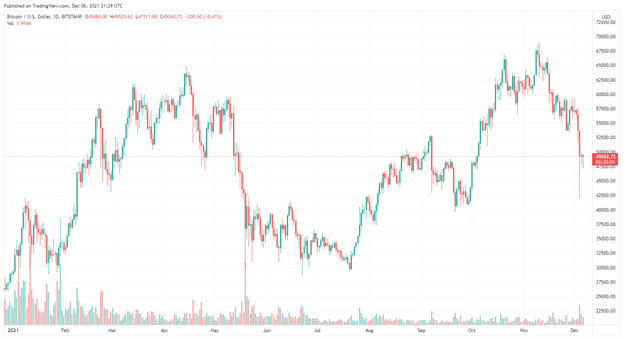 *Bitcoin performance since the beginning of this year
drop factors
A combination of profit-taking and macro-economic concerns led to this selloff in cryptocurrencies, as the risk-off tone shifted to bitcoin, following a volatile week in financial markets amid fears of the spread of the novel coronavirus mutant Omicron.
However, there may not be an underlying cause that led to the sharp declines in the crypto market, and perhaps the wide spread of margin buying and leverage caused the pressure of last weekend and caused a severe sell-off, as a group of retail-focused exchanges closed more than two billion dollars of Bitcoin buying positions according to Coinglass data.
Also, the BitMart platform hack of about $200 million may have played a role in the recent landing through hacker monetization
Bitcoin's previous drop also comes with the first hearing in which major players in the cryptocurrency markets will testify before the US House of Representatives, as policymakers grapple with the implications of cryptocurrencies and how to best regulate them.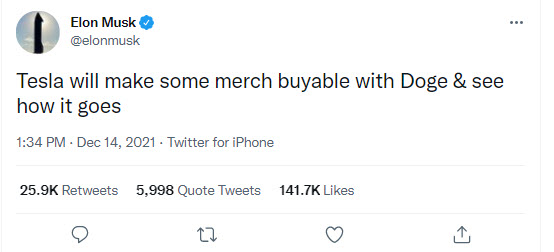 whale messages
It seems, gentlemen, that this decline has raised the appetite for risk in buying, and this is what El Salvador did, as President Najib Bukele stated, via the Twitter platform, that the state bought 150 units of the cryptocurrency at an average price of 48.67 thousand dollars each, and Microstrategy - the largest company owner of Bitcoin. Not only this, but the American software company pledged to continue increasing its holdings of Bitcoin over the coming years, regardless of price movements.
And at any important juncture, we must see Elon Musk appear on the scene, and this is what he did today, December 14, as he announced in a tweet his support for Tesla's purchases through the Doge currency, which caused the currency to rise by more than 20% and the return of positive momentum to the market in general.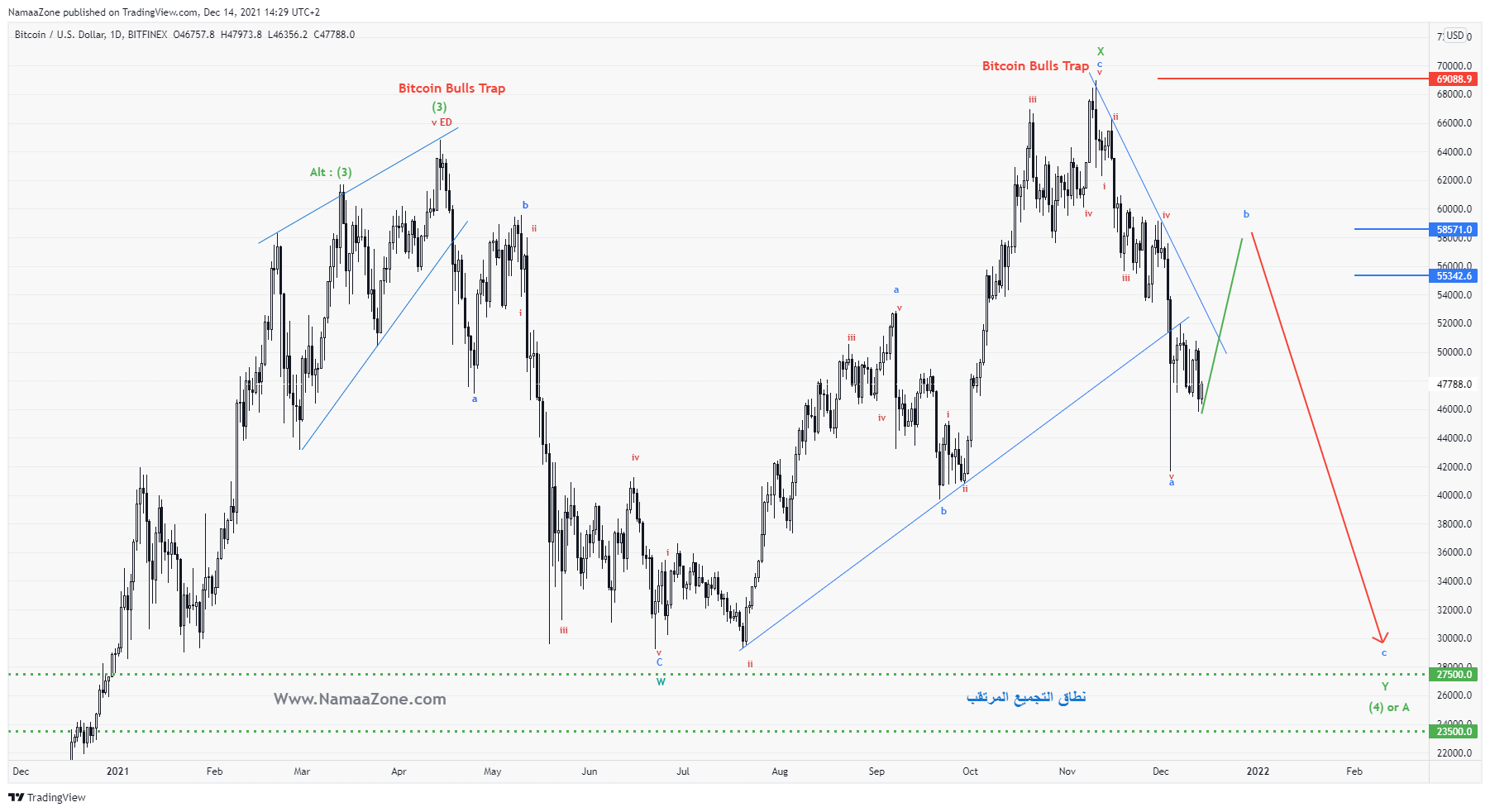 technical outlook
In many previous articles, I expected a bull trap near 65K and the trend towards a deep correction, and I think that the first descending wave in the series has already occurred, reaching the bottom of December 4, $41,700, and because the financial markets are not going in straight lines, so now I expect the bullish momentum to be renewed to correct the downside path From the top of 69 thousand and back to the levels of 55 thousand and we may actually see 58 thousand dollars, as is clear in the tracks on the attached chart above
Therefore, I recommend speculative buying from the current prices near 47 thousand, with a stop at 43 thousand, and targets of 55,340 and 58,500 dollars. I also advise easing and taking profits when reaching the target levels
I would like to pay attention that the exposure to the market does not exceed 30% of the available liquidity, because I believe that the process of descending in general from the top of 69 thousand has not ended yet. Between the level of 27 thousand and 23 thousand, hunting, gentlemen, teaches long patience and matters are resolved by their ends
Trade consciously and cautiously and my best wishes to all
Iyad Aref
Founder of the Namazon website